9. GVRC Classic Cup 22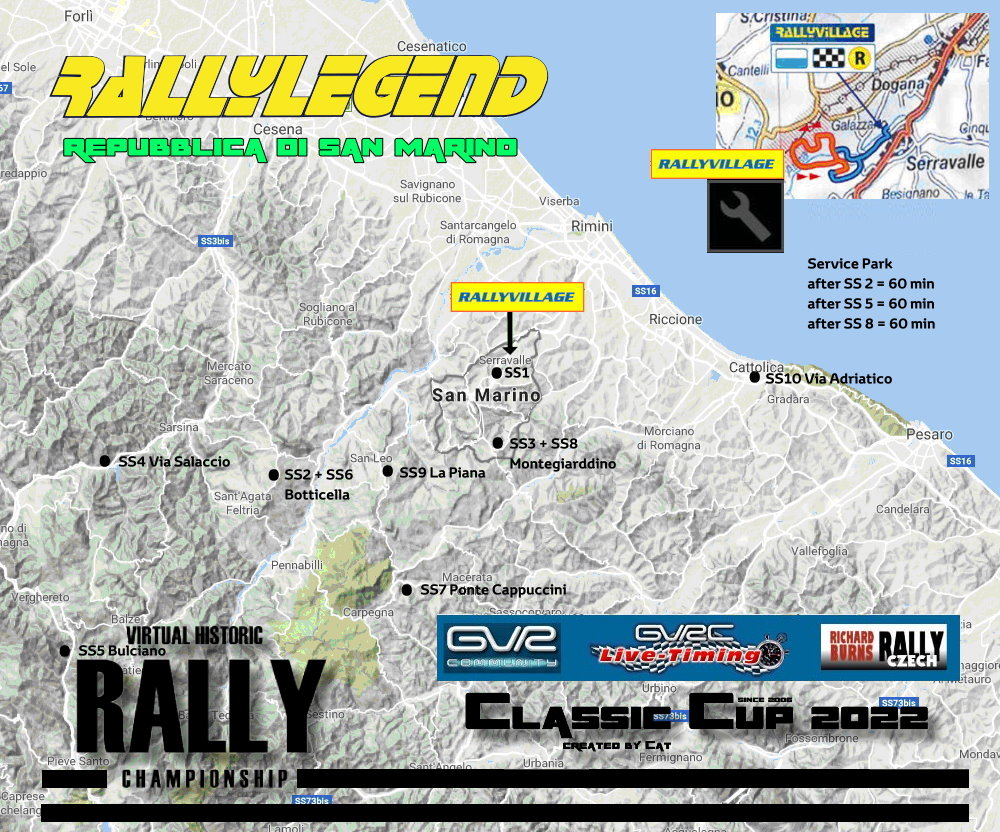 Auf gehts zum vorerst letzten Lauf des GVRC Classic Cup 2022 - genießt es :)
Ich wünsche allen Teilnehmern eine erfolgreiche Rallye !
RallyLegend San Marino
Rallye Legenden bringen die Erde zum Beben!
In San Marino leben alte Rallye-Tage wieder auf. Einmal pro Jahr wird die Rallye-Zeitrechnung um rund 25 Jahre zurückgedreht. Die alten Fahrzeuge aus den diversen Rallye Museen und Sammlungen bekommen Ausgang und jagen mit Vollgas über die winkeligen Pisten des italienischen Stadt-Staats und des wunderschönen Umlands.
Der Oktober ist der Monat der RallyLegend,
die schönsten Rallyeautos der Geschichte, mit den Stars der aktuellen Meisterschaften.
Ich freue mich das die RallyLegend dieses Jahr zur Classic Cup Meisterschaft gehört.
Der Charakter der RallyLegend wird beibehalten, mit der Nachtbühne als Auftakt,
gefolgt von den spektakulären Sonderprüfungen rund um San Marino's Bergstraßen.

------------------------------------------------------------------------------------------------------------

Let's go to the for the time being last run of the GVRC Classic Cup 2022 - enjoys it :)
I wish all participants a successful rally !
RallyLegend San Marino
Rally legends make the earth shake!
In San Marino, old rally days come back to life. Once a year the rally calendar is turned back by about 25 years. The old cars from the various rally museums and collections are given a chance to get out and race at full throttle over the winding tracks of the Italian city-state and the beautiful surrounding countryside.
October is the month of rally legend,
the most beautiful rally cars in history, with the stars of the current championships.
I am happy that the RallyLegend belongs to the Classic Cup Championship this year.
The character of the RallyLegend will be maintained, with the night stage as a prelude, followed by the spectacular special stages around San Marino's mountain roads.
9.GVRC Classic Cup 22
Virtual Historic Rally Championship
RallyLegend San Marino
Date: 10.10. – 16.10.2022
Stages: 10
Car damage: reduced
Surface: 100 % tarmac , x % gravel
Lenght: 75,6 km

Rally Director: Caterham
Required mods: NGP 7… physics,
all Tracks from CZ Plugin
Weather forecast:
good weather, crisp, partially cloudy
chance of rain 35%
Temperatures around 20/22 degrees
8. GVRC Classic Cup 22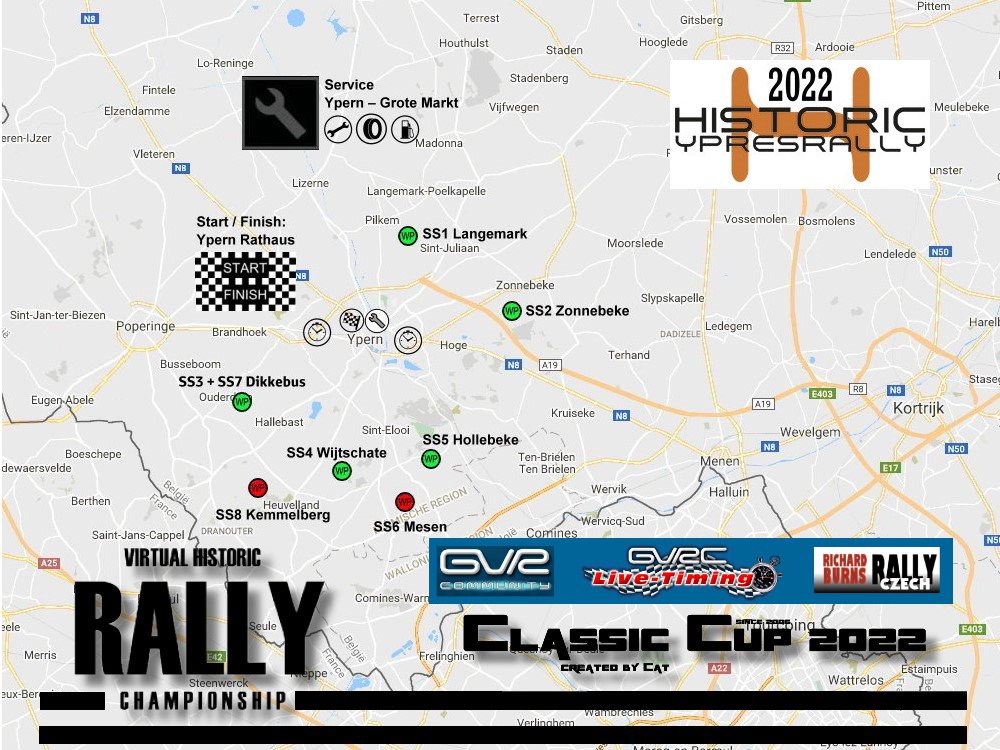 Die YPRES
Die 1965 gegründete belgische Ypern-Westhoek-Rallye ist eine der berühmtesten Rallyes der European Rally Championship und der Intercontinental Rally Challenge.
Die letzten Jahre Jahr gehörte sie auch zur FIA Eúropean Historic Rally Championship und somit auch zu der GVRC Virtual Historic Championship 2022.
Was mit einer Zeitkontrolle der Rallye Monte-Carlo auf dem Grote Markt in Ypern begann, wuchs Jahr für Jahr zu einem der Top-Wettbewerbe im Kalender der Rallye Europameisterschaft.
Die Ypern-Rallye ist daher zum Mekka des belgischen Rallyesports geworden.
Ich wünsche allen Teilnehmern eine erfolgreiche Rallye

---------------------------------------------------------------------------------------------

Founded in 1965, the Belgian Ypres Westhoek Rally is one of the most famous rallies of the European Rally Championship and the Intercontinental Rally Challenge.
The last years it also belongs to the FIA Eupropean Historic Rally Championship and thus also to the 2022 GVRC Virtual Historic Championship.
What began with a time control of the Rally Monte-Carlo on the Grote Markt in Ypres, grew year after year to one of the top competitions in the calendar of the European Rally Championship.
The Ypres Rally has therefore become the mecca of Belgian rallying.
I wish all participants a successful rally
8.GVRC Classic Cup 22
Virtual Historic Rally Championship
Historic Belgian Rallye
Date: 12.09. – 18.09.2022
Stages: 8
Car damage: realistic
Surface: 95 % tarmac , 5 % gravel
Lenght: 59,2 km

Rally Director: Caterham
Required mods: NGP 7… physics,
all Tracks from CZ Plugin
Weather forecast:
rain in the morning, dry during the day
Temperatures around 14 / 22 degrees